The kids and I play a typing game. I'll be sitting on the couch with my laptop, and one of them will come over and ask to play. We'll load up jefftk.com/speak: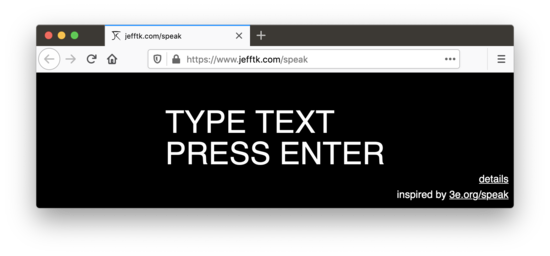 I'll write something: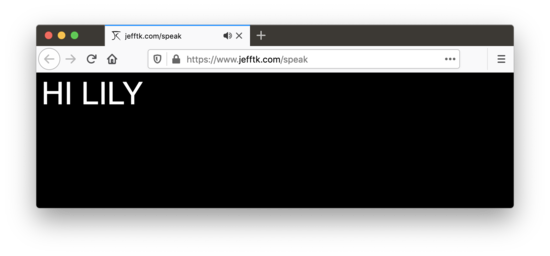 Then they'll write something: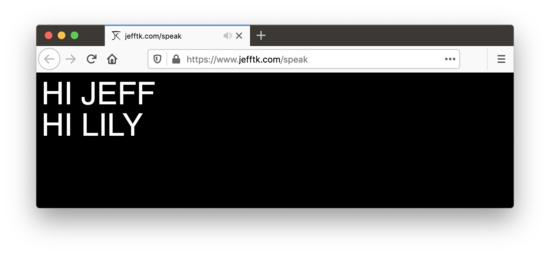 Then I'll write something: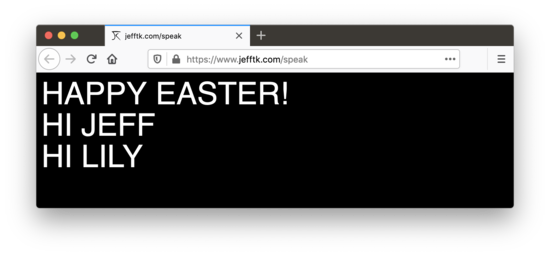 It only accepts letters, numbers, and a few punctuation marks. As you type it says the letters, and when you press enter it says your whole sentence. There's a history, but once something scrolls off the bottom of the screen it's gone.
Some ways we'll play with it:
They'll ask me how to write something, I'll spell it. I'll point out the letters as needed, as vaguely as I can.
I'll write something, they'll guess at it, then we press enter and find out if they're right.
I'll write something, they'll copy it.
I'll write a word like 'SAD' and then they'll see if they can modify it to make a related word like 'MAD'.
It uses upper-case and sans-serif because that's what the letters on they keyboard look like.
I got the idea from Daniel's version, but rewrote it from scratch to better ignore mistaken inputs. Feel free to copy and modify!