Following the strong response of taggers to calls for help, plus lessons learned from our earlier designs, we are launching new and improved power tools for maintaining and improving the tag/wiki (twiki?) corpus.
We are first applying these tools to completing the underway Wiki Import campaign, and when that's done we'll reconfigure them for long-term use.
There are several connected parts to the new tools:
Tag Flags
New Twiki Dashboard (www.lesswrong.com/tags/dashboard)
Upgraded Tag Editing
Tag Discussion Sections
Tag Flags
At the heart of the new Tagging Power Tools are tag flags. These are a limited and generally fixed set of flags that people can set on tags when they require work, and then remove when the work is done. 

Temporarily, the tag flags are designed specifically for the import (those from the deprecated spreadsheet). Long-term they'll be general things like "needs a description", "should have more posts tagged", "is out of date". The tag flags will be managed by admins, of course, with input from taggers. This is largely because we want to keep the number to something 5 main ones and maybe another 5-10 minor ones. Keep it manageable.
We are deprecating the Tag Grading Scheme.
New Twiki Dashboard
You can get lists of tags with each kind of tag-flag on the new dashboard. By default, you get a list of all tags with any flag applied. If you click on a flag in the header list, the page will be filtered for only tags with that tag. The selected Tag Filter displays in black. You can remove the filter with the Reset Filter button.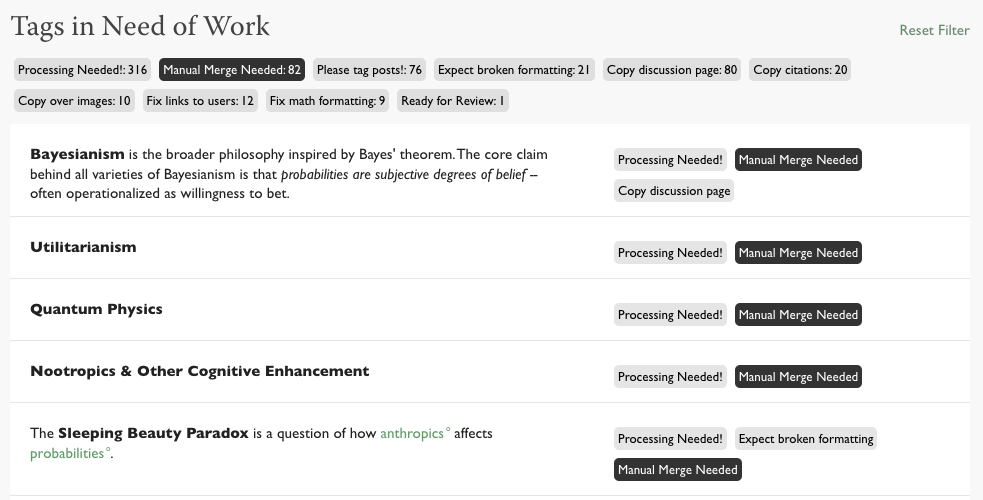 If you hover of the flag, you'll see a description describing what it means and how to address it.

Editing Tags
Once you've found tags you want to edit, you have two options for how to do that.
Twiki Dashboard On-Page Editing
Full-Edit on Tag Page
On the Twiki Dashboard page, if you click the Edit button for a tag, it will open it up for editing on-page.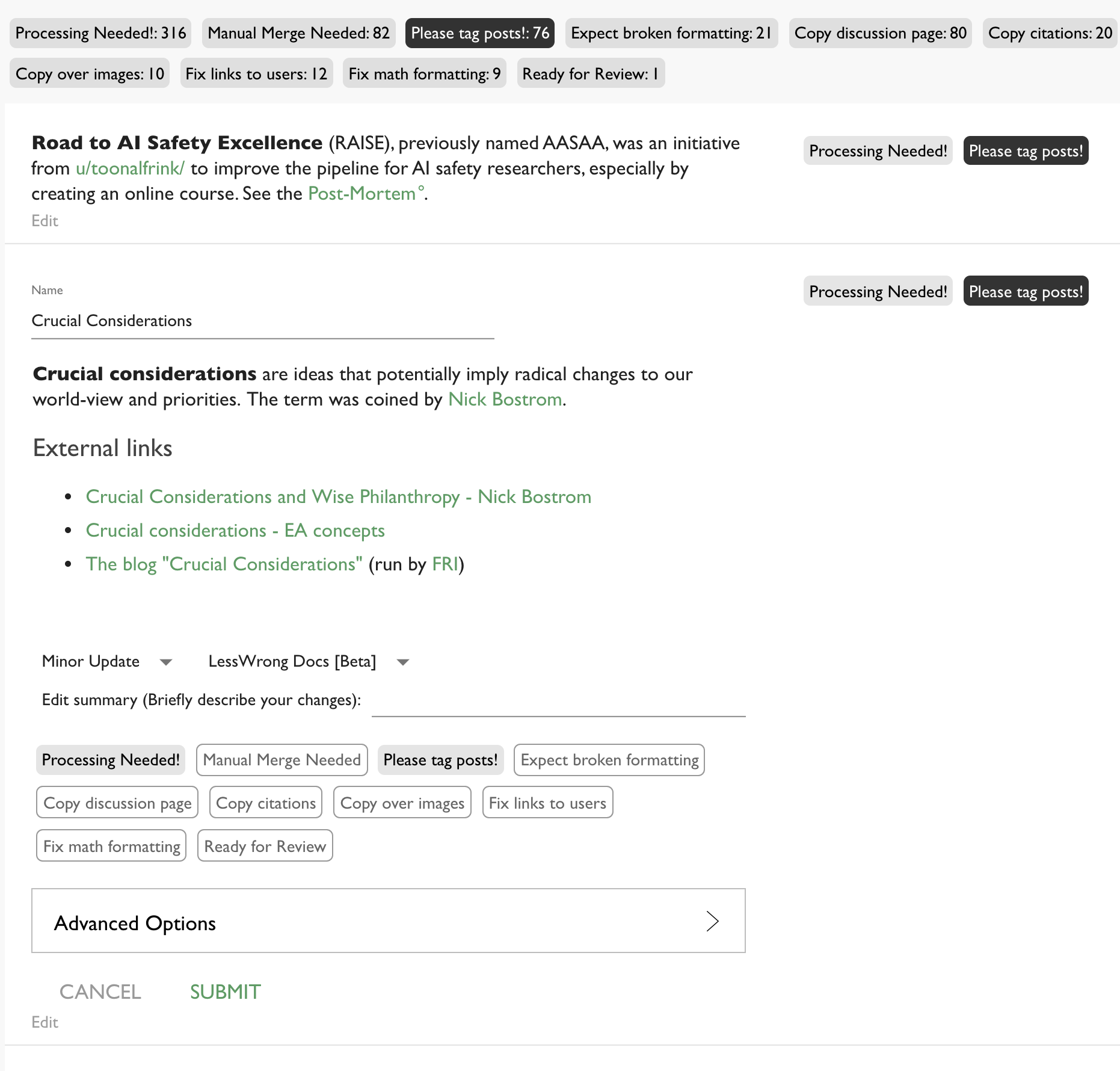 As you see, here you can toggle the flags. Don't forget to click submit! If a removed flag was part of your filter, the tag probably won't disappear from the list until you refresh.
Upgraded Tag Editing
Continuing from the above, you can alternatively start editing tags in full-edit mode by clicking on the text body on the dashboard (rather the Edit button).

The new full tag-editing experience looks like this: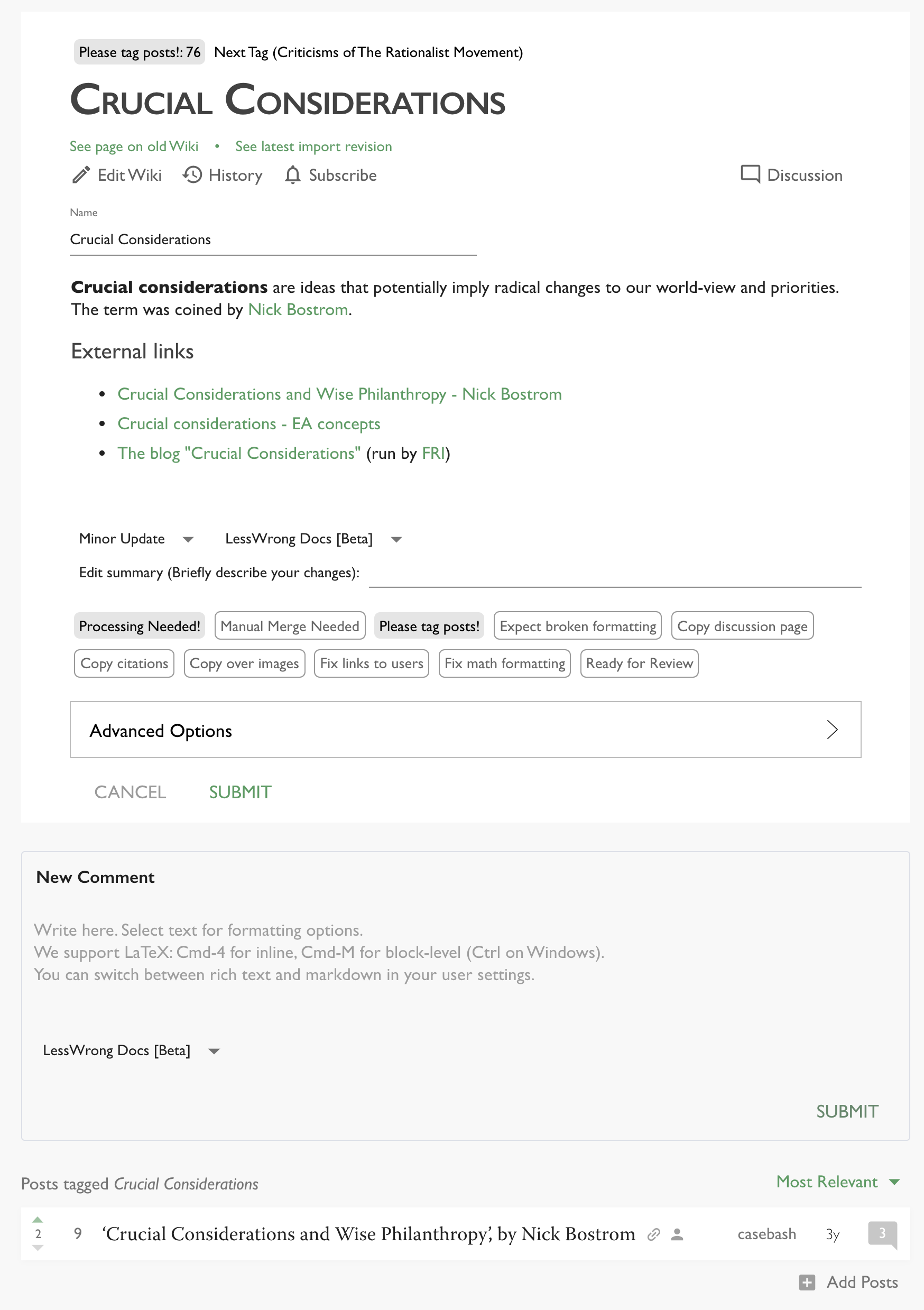 Things to note:
Opens in edit mode, ready to go. Remember to click submit!
Tag flags can be set.
"Next Tag" [in filter list] button.
Tag Discussion Section
Posts List (can add posts from here)
For imported old wiki pages, there are links to the original on the old site, and the latest revision of the import.

These can be used to compare with the pre-import page for formatting issues, etc., and for copying/merging text. Copy from the revision page rather than the old wiki site since it has the links fixed up.
It's everything you need to edit and improve tags with minimal clicks.
Tag Flag Playlists
If you've clicked through to editing a tag via a filter on the dashboard, instead of going back to the dashboard, you can move onto the next tag with a handy next tag button. This takes you to the next from the tag flag list you've selected.

Tag Discussion
A week or two ago, we added a Discussion section for each tag/wiki. You can get to them by clicking the Discussion button on the top right of tag pages.

We've also placed the same Discussion section beneath the tag text when editing. This is so people can leave notes and ask questions about a tag while editing it, super conveniently. We'll work on further improving the visibility of these comments.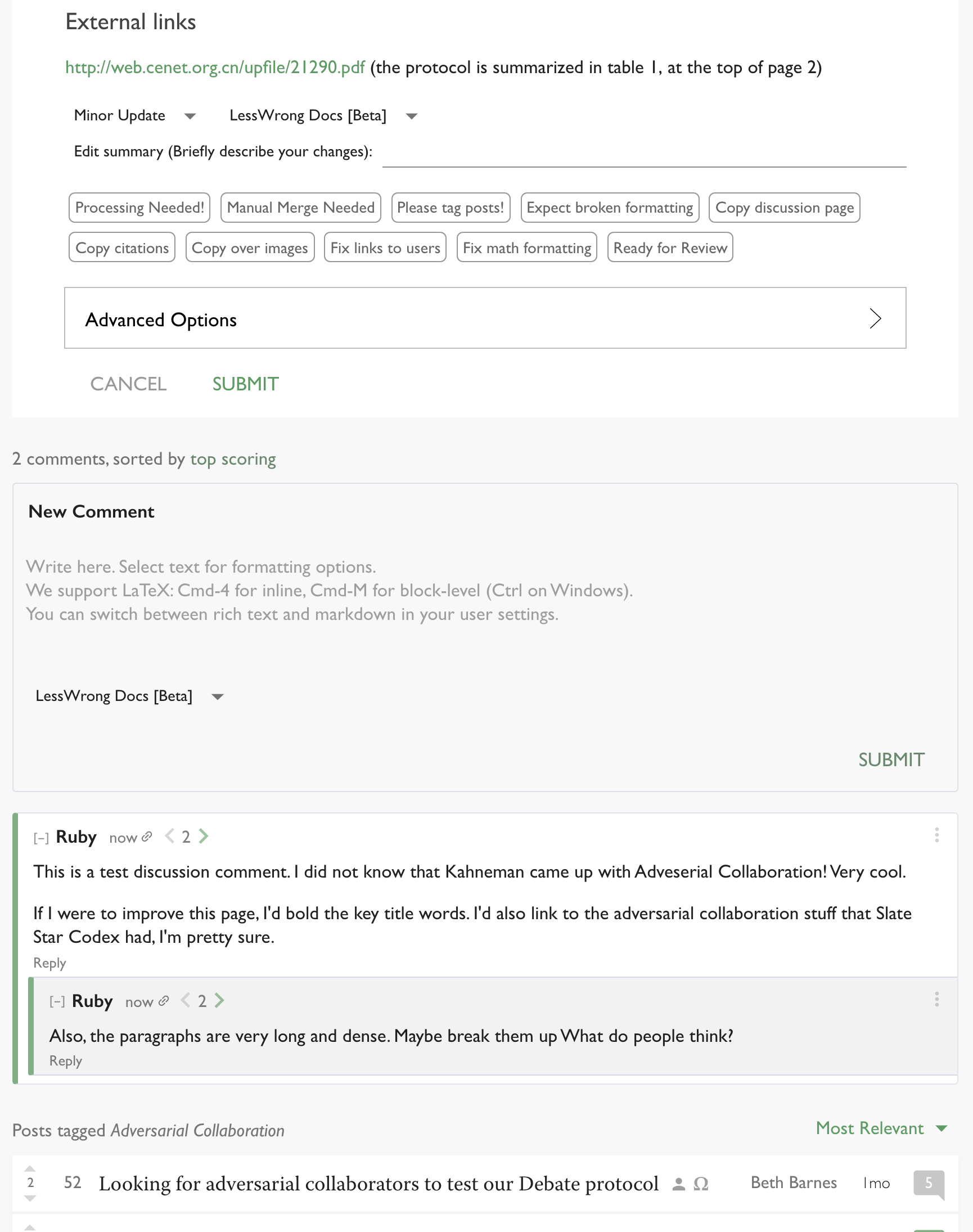 Feedback, please!
That's it, folks, I hope you like it. Please try it out and let us know what you think.
As always, you can join the Tagger Slack to chat live with other taggers and the LW team.