There have already been a couple of posts on this topic, including this one which promotes a mask brace:
https://www.lesswrong.com/posts/CrikcGiaWK9CSSzrJ/i-made-an-n95-level-mask-at-home-and-you-can-too
Since then, there have been changes to the way we mask. Nowadays, I often see people wearing KN95 masks outside, whereas in April/May almost everyone stuck to plain surgical masks. In my opinion, KN95 masks are a great compromise between surgical and N95 cup or duckbill style masks; they offer pretty good comfort, good filtration, but unfortunately most of them do not offer good fit.
One of the reasons for this is that KN95 masks are more commonly found in earloop form rather than headband. I haven't tried the headband KN95 masks myself, but the earloop masks fit loosely around the ears and don't seal the outer rims of the mask to your face. Another major reason for leakage in KN95 masks is that the bendy bit around the nosebridge isn't really firm enough, and so these masks, (at least when I use them straight out of the box), leak a bunch of air through the top. This is most noticeable if you wear glasses or goggles; they start fogging up.
The main solution that people use for the glass fogging issue is tape around the top of the mask. I dislike this approach for a few reasons. First of all, tape on your face feels bad. Secondly, every time I tape the top of the mask to my face, the tape loses stickiness and I have to tear it off to replace it with new tape. This visibly damages my masks, which I reuse at least several times.
Here are some of the ways I modify my KN95 masks to maximize comfort, fit, and reusability. You will need:
Glue
Scissors
Metal strips for face mask (just search for this on Ebay or something, here's 10 thick ones for $9: Ebay Link
Tissue/toilet paper
Other than the metal strips, you probably have all of these lying around already! Here's a self explanatory picture with additional explanation below: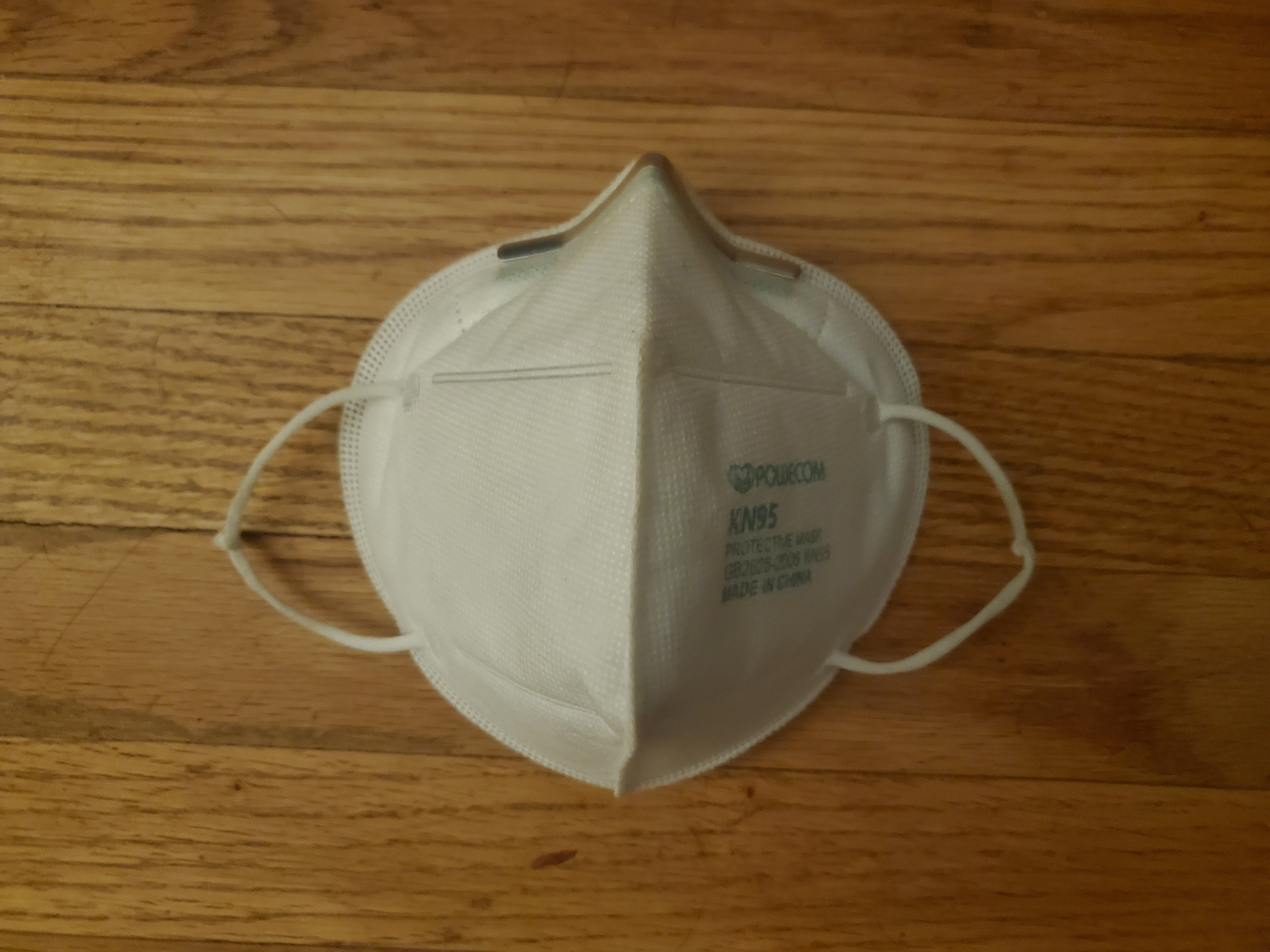 A few things to notice. First of all, the earloops have been tied and then snipped to be smaller. This makes the mask fit tightly around your face. You may have to experiment with how much you want to tighten it, since not all faces are the same size. Once you have tied the knots, just take your scissors and snip off the dangly loops.
An additional metal strip was added to the upper part of the front of the mask. Make sure to bend this to the shape of your nose.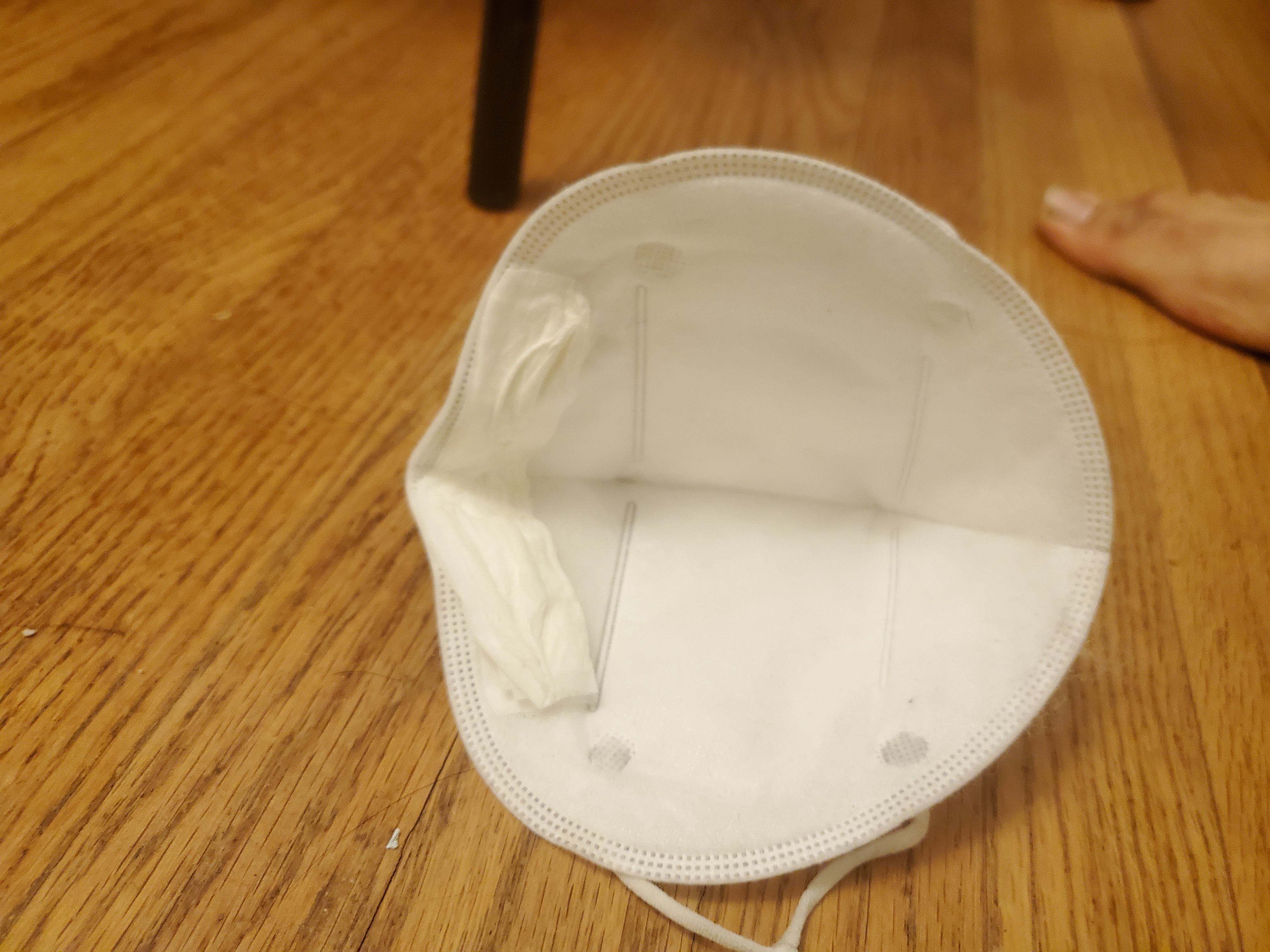 I've also folded up a wad of toilet/tissue paper about 1-2mm and glued it to the inside of the mask. When I showed this part to others they usually think it's dumber than the rest of the adjustments. But believe me when I say this really helps with eliminating the glasses fogging and air leakage through the top, at least for my face shape.
There you have it; easy ways to make your cheap KN95 masks really good at actually filtering the air instead of just having you breathe around the cloth.