🇨🇦 People liked my Canada comment on Zvi's post on Jan 14th, so here's another update as a top-level post. I thought I wouldn't have much to say but apparently I wrote some stuff!
(I want to underscore that this is a rambly summary from someone who does not have the same thorough researchy energy or rigorous models as Zvi or many other LWers in many situations. If you have major decisions to make, use this summary as at most a jumping off point. Slightly BC-heavy because I moved to BC a few months ago and have been getting more news here. Also some of my rambles involve info that is probably common-knowledge to most Canadians who are informed whatsoever, I guess because I'm imagining people from other countries finding this of some interest as a contrast or something.)
So.
It continues to be true that various Canadian authorities are talking about their plan to gradually get everyone gradually vaccinated by September as if it's just a reasonable plan and there's no reason to try do anything faster. Like how someone very conscientious might say "yeah, I'll do a quarter of my xmas shopping each weekend in November and be totally ready by December" which is a reasonable safety buffer for xmas but that is just not the situation here. A weird tone thing.
Maybe things will go faster if we can get some AstraZeneca, or one of the 4 other companies we've got contracts with. We can hope—we've purchased >400M doses for our 38M people. Assuming we haven't cancelled those now that Pfizer has promised us 80M doses by September (enough for everyone).
One conservative MP snarkily summarized this many-company situation as:
"It's like saying that I have negotiated a contract with six fire departments to respond to my fire, but they won't respond for six hours when I do have a fire. And my neighbour has negotiated one contract with a single fire department to respond in five minutes," Chong told host Chris Hall.

"Personally, I'll take the single contract with the fire department that responds in five minutes because that is going to save my house. We are the country that's negotiated the contract with six fire departments ... that's the problem here."
The article explains:
Canada has signed agreements to receive the vaccine from seven companies, including Pfizer and Moderna. Candidates from the remaining suppliers have yet to receive the regulatory green light from Health Canada, though Virani said the AstraZeneca and Johnson & Johnson products are "on the precipice of hopeful approvals."
Here's a vaccines chart, that hasn't been updated since Friday January 22nd for some reason (neither have official government sources according to one link, so I gave up looking)
Chart below suggestions that the lockdowns the various provinces are doing are mostly working, except here in BC where it's kinda plateau'd but low probably because people are like "whatever, we're not ON, QC or AB, we can go out to restaurants and stuff". I dunno.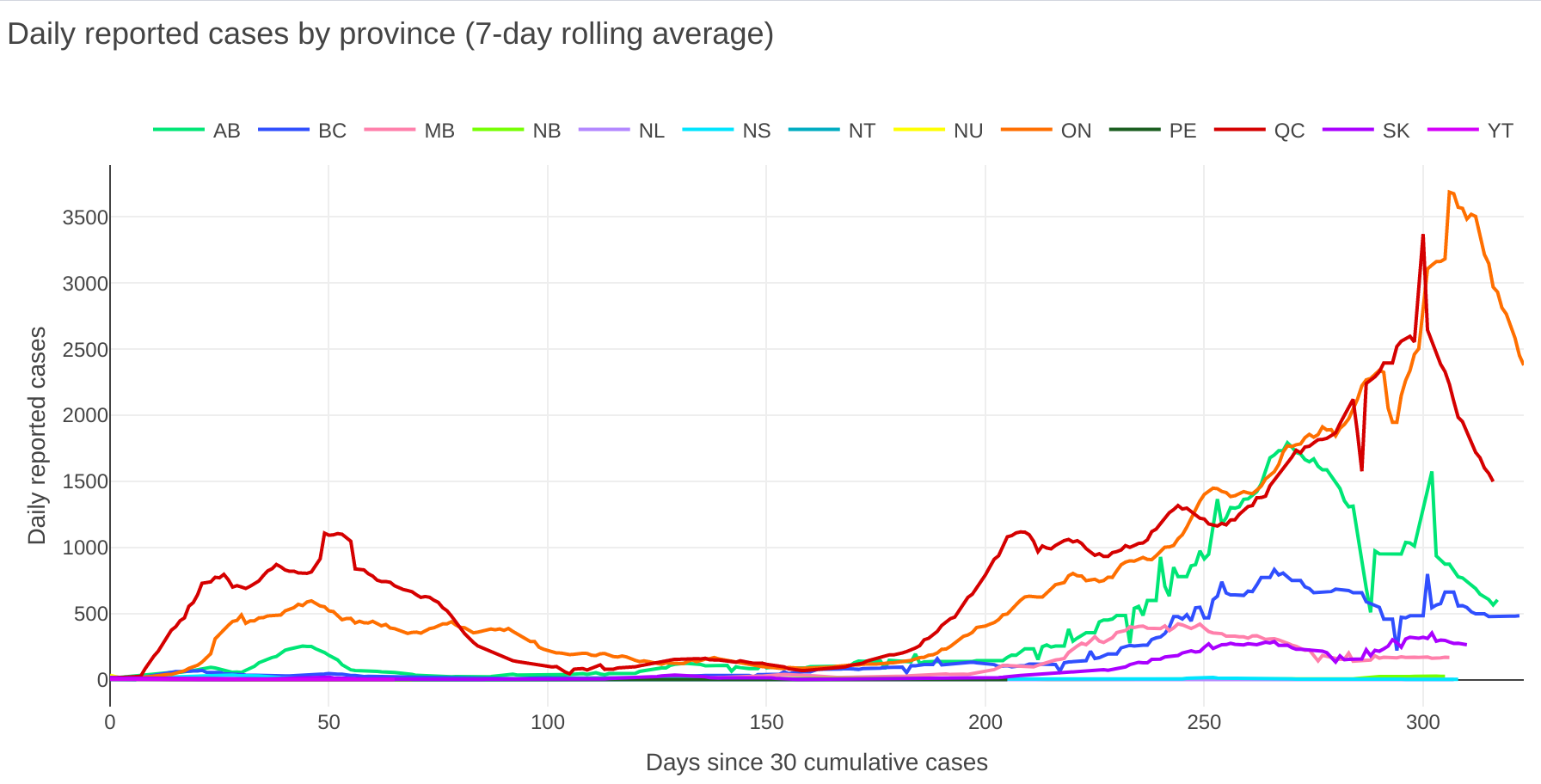 Cases:
We've detected a few cases of the UK variant, none from travellers, which is concerning, athough contact tracing is, you know, underway ¯\_(ツ)_/¯
The Atlantic provinces are ofc still doing New Zealand levels of great with just a handful of cases daily, and are still requiring 14-day isolation from travellers from other provinces, including each other. BC has explicitly indicated they have no intention to restrict travel from other provinces. I don't know how people are thinking about this.
To get a sense of your risk, don't forget to check your local health authority because it varies a lot by region—there have still only ever been 1500 confirmed all-time cases among the 1M people on Vancouver Island, for instance, vs 40,000 among the 1.8M people in the way denser Fraser Health region just a single scenic-if-not-foggy expensive ferry ride away.
We're, as always with these sorts of things, doing quite a bit better than the USA on average, but doing worse than we might be if we set a better standard than "better than the USA on average". If you want to see a live updated state & province comparison, CTV has you covered. Only 7 states are doing better than Canada's worst province per capita, which is Saskatchewan.
Vaccines:
Bad news: Pfizer vaccines seem to be delayed even more than expected—BC is getting almost none over the next few weeks, probably similar for other provinces. As a result second doses are getting delayed from 35 days to 42 days, or something like that.
The plan for the main phase of the rollout starting in April is by age, with every few weeks another age cohort opening up... wait, that might just be BC, actually, though other provinces may be similar. The BC thing has nobody under age 60 getting the vaccine before July, unless they are hospital staff, have health risk factors, and maybe front-line workers if supplies available.
Ah, here are Canada's guidelines, which outline a general Stage 1 (elderly, long-term care & healthcare workers, & vulnerable/isolated indigenous communities) and Stage 2 (more healthcare workers, residents & staff of all other congregate settings, essential workers)
These guidelines which include fairly sane remarks like "If doses of COVID-19 vaccine(s) have been delivered to an immunization setting and have been used for a group recommended in Stage 1 but cannot be re-located to another setting for other groups recommended in Stage 1, remaining doses on-site may be provided to individuals in the groups recommended in Stage 2 in order to minimize the risk of vaccine wastage and maximize the benefits of vaccination."
My impression is that the upshot of this is that things are just in general moving a bit slower in Canada.
Infections are slower, perhaps due to a slightly different set point on the control system and/or better masking/distancing adoption or something, although we still have our share of anti-mask energy and similar stuff here.
Vaccinations are slower because... lack of ambition, maybe spreading purchases thin, and supply issues, as above.
So in conclusion, re the UK strain, we may have a bit more time to react, potentially, if the doubling rate of the new variant is similarly effectively a bit slower under current conditions here than elsewhere, and we're gonna need it, given how slowly our vaccine rollout is scheduled.
(I would love to see someone model this. Is there an easy way to modify Zvi's spreadsheet to use Canada case numbers, R0 estimates, & vaccine projections? I think, for instance, the substantially fewer cases we've had so far might mean a higher overshoot? Where Canada has 2% of population worth of all-time confirmed cases with 4.3% all-time test positivity, USA has 8% with 9% test positivity. Though that factor may be fairly negligible.)
Writing this was honestly kind of draining, although I learned a bit from doing it. So I am probably not going to write another, or not until there's actual substantial news. We can use the comments of this post for updates, for the next few weeks.