Introduction
When trying to understand why the emails of Fauci might or might not be a big deal, most of the online sources I found look at individual emails while individual emails alone are not enough to understand what's happening. After watching a video that points to the days in the beginning of February being central, I read through the related emails. Reading the original sources is very useful if you want to get a good understanding of the ground reality.
These emails aren't public because a hacker breached the security of the NIH, so argument against it being unethical to discuss material that's public due to hacks don't apply here. They are public because the law assumes that citizens have a right to understand how their institutions work and can access documents via Freedom of Information requests.
Given that most people won't read the sources, I wrote my own research together in this post, to put some of what's in the emails into a form that's more easy to consume. I still recommend everyone who wants to form a grounded opinion to additionally look at the emails themselves.
There are a lot of emails and I try to list the ones that are most relevant to the story of how Fauci, Farrar and Collins organized a group to declare to the world that SARS-CoV-2 is of natural origin and not escaped from a lab. In this post I will use SARS-CoV-2 the whole time to refer to the virus even though it only got that designation on February 11, 2020 and emails before that point refer to the virus as 2019-nCoV.
Monday, 26st 2020
Forbers writes that the Lab Leak theory started on January, 26st with Washington Times with an article titled "Coronavirus may have originated in lab linked to China's biowarfare program". As a result the first public debate begins with multiple papers writing stories.
Friday, January 31st 2020
On January 31st an Indian researcher group around Prashant Pradhan published Uncanny similarity of unique inserts in the 2019-nCoV spike protein to HIV-1 gp120 and Gag as preprint.
The Fauci emails begin in February but given that one email replies to an email that was written a day earlier, it's still part of the dataset. In it Kristian Andersen, professor at the Department of Immunology and Microbiology of California Campus, emails Anthony Fauci, NIAID (National Institute of Allergy and Infectious Diseases) since 1984, with the claim that at the current state of knowledge the virus looks like it's potentially engineered.
Given the title of the email it looks like Fauci sent Andersen the article Mining coronavirus genomes for clues to the outbreak's origins, maybe with a request for more information about the origin of the virus.
After receiving that email, it takes Fauci two hours to read the email and then write Hugh Auchincloss, who's the principal deputy director of NIAID since 2006, an email telling him to have a phone call in the morning together. In it he attaches a PDF labeled "Baric, Shi et al - Nature medicine - SARS Gain of function". While the PDF itself is not part of the published dataset it's likely A SARS-like cluster of circulating bat coronaviruses shows potential for human emergence from Ralph Baric from the University of North Carolina and Shi Zhengli from the Wuhan Institute of Virology. Fauci also forwards the article Mining coronavirus genomes for clues to the outbreak's origins by Jon Cohen in a later email.
As Freep reports on that Friday, Fauci, Andersen Jeremy Farrar, director the Wellcome Trust, also had a three way call where Fauci suggested bringing together an expert team to talk in the evening of the next day.
(Note: I read 12:29:01 as meaning half past midnight. Other sources date this email to 7:29)
The interesting part about the linked article is:
[Links copied from the source]

The Wuhan Institute of Virology, which is the premier lab in China that studies bat and human coronaviruses, has also come under fire.

[...]

Concerns about the institute predate this outbreak. Nature ran a story in 2017 about it building a new biosafety level 4 lab and included molecular biolog ist Richard Ebright of Rutgers University, Piscataway, expressing concerns about accidental infections, which he noted repeatedly happened with lab workers handling SARS in Beijing. Ebright, who has a long history of raising red flags about studies with dangerous pathogens, also in 2015 criticized an experiment in which modifications were made to a SARS-likevirus circulating in Chinese bats to see whether it had the potential to cause disease in humans. Earlier this week, Ebright questioned the accuracy of Bedford's calculation that there are at least 25 years of evolutionary distance between RaTG13-the virus held in the Wuhan virology institute-and 2019-nCoV, arguing that the mutation rate may have been different as it passedthrough different hosts before humans.
While it's clear that Baric and Shi collaborated together it's unclear whether the experiments as of 2015 happened in North Carolina or in Wuhan. In the abstract they describe their experiment as:
Using the SARS-CoV reverse genetics system2, we generated and characterized a chimeric virus expressing the spike of bat coronavirus SHC014 in a mouse-adapted SARS-CoV backbone. The results indicate that group 2b viruses encoding the SHC014 spike in a wild-type backbone can efficiently use multiple orthologs of the SARS receptor human angiotensin converting enzyme II (ACE2), replicate efficiently in primary human airway cells and achieve in vitro titers equivalent to epidemic strains of SARS-CoV.
They also say that the NIH reviewed their paper and renewed their grant.
This paper has been reviewed by the funding agency, the NIH. Continuation of these studies was requested, and this has been approved by the NIH.
The relevant grant is UNDERSTANDING THE RISK OF BAT CORONAVIRUS EMERGENCE. It described as one of its aims:
Aim 3. In vitro and in vivo characterization of SARSr-CoV spillover risk, coupled with spatial and phylogenetic analyses to identify the regions and viruses of public health concern. We will use S protein sequence data, infectious clone technology, in vitro and in vivo infection experiments and analysis of receptor binding to test the hypothesis that % divergence thresholds in S protein sequences predict spillover potential.
Normally, renewing a grant isn't a big deal. In 2012 Fauci Research on Highly Pathogenic H5N1 Influenza Virus: The Way Forward to argue for continued gain-of-function reserach. In 2014 concerns about gain-of-function research surfaced after in June 75 scientists at the CDC were exposed to anthrax and only for a few weeks later FDA employees found 16 forgotten vials of smallpox in storage. This led to a moratorium on gain-of-function research and as a result no new grants for gain-of-function research should have been given out. The fact that the NIH gave them the grant was thus likely in violation of policy.
In 2014 one editoral justifying the moratorium wrote about the risks of gain of function research:
Multiplying the probability of an accidental laboratory-acquired infection per lab-year (0.2%) or full-time worker-year (1%) by the probability that the infection leads to global spread (5% to 60%) provides an estimate that work with a novel, transmissible form of influenza virus carries a risk of between 0.01% and 0.1% per laboratory-year of creating a pandemic, using the select agent data, or between 0.05% and 0.6% per full-time worker-year using the NIAID data.
Saturday, February 1st 2020
Auchincloss mails back that while the experiments in the paper were funded before the moratorium went in place, that he doesn't know what it means that the paper says the it's been reviewed and approved. When the moratorium for gain of function research ended in 2017 a P3 framework was created to access the risks of gain of function research. No Coronavirus work went through that framework, so the work of Baric and Shi never got the safety review that was instituted for gain of function research in 2017 when the NIH was again allowed to fund gain of function research.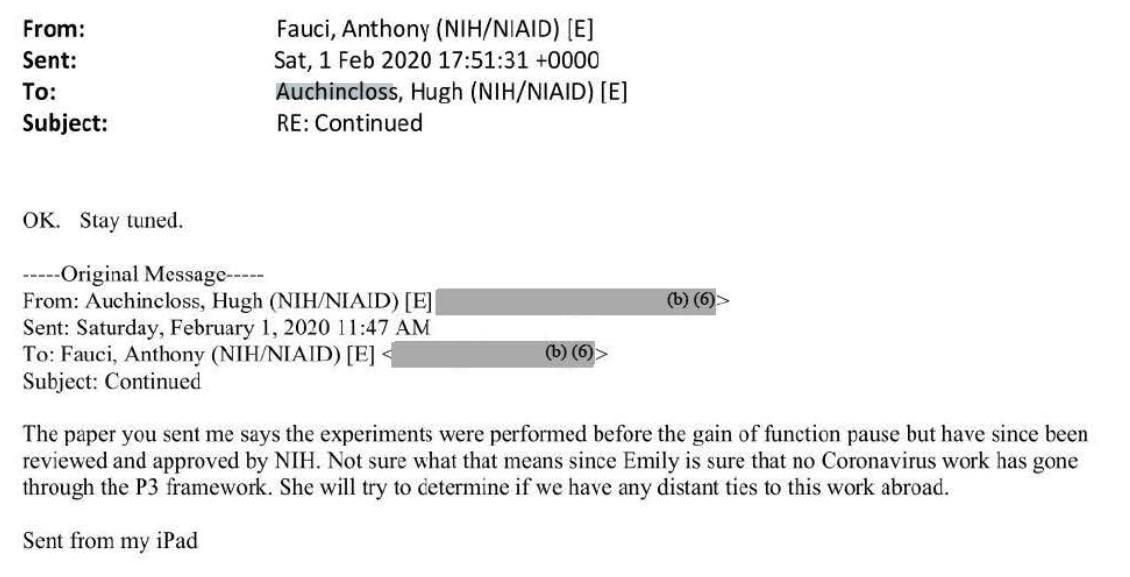 In the middle Saturday, Fauci sends Tabak Lawrence, who's principal deputy director of the NIH, the same PDF.
A few hours later Jeremy Farrar from the Wellcome Trust sends an invitation to a meeting during the evening of Saturday.
[I removed some of the white-space from the email and following emails]
Later in the evening Francis and Fauci thank Collins for his leadership on this "critical and sensitive issue" and Farrar says "We are altogether you know". To me that sounds like what one would say when one has to cover up a problem. Farrar's Wellcome Trust is one of the organization that sponsored the Second Symposium for Gain of Function Research in 2016. An article in BJM (a peer reviewed journal) about the Wellcome Trust starts out by saying "The major funder of health research stands to gain financially from the pandemic, raising questions about transparency and accountability". It would be really inconvenient for the NIH and NIAID if Kristian's hypothesis from a day ago would be correct and SARS-CoV-2 escaped a lab that's partly funded through NIH money.
After the meeting Farrar sends an email about how useful the meeting was to all participants:
Farrar summarizes a "reasonable approach" and most of the email was redacted under the B5 exemption. The standards are described in Department of Interior v. Klamath Water Users Prot. A.:
To qualify under Exemption 5's express terms, a document must satisfy two conditions: its source must be a Government agency, and it must fall within the ambit of a privilege against discovery under judicial standards that would govern litigation against the agency that holds the document.
While the second criteria can be interpreted quite broadly, Jeremy Farrar is not a member of a government agency and thus there's no legal basis for redacting his email under B5. This is not the only email that's sent after this meeting in which large portions are redacted and that are written by people who are not employed by the US government. Illegally withholding information from the public suggests that there's something fishy going on, if the other evidence wasn't already enough.
Later when interviewed by Freep, Fauci said about the meeting: "It was a very productive back-and-forth conversation where some on the call felt it could possibly be an engineered virus". This suggests that without the redactions we would have more information about who in the meeting argued for it being an engineered virus and it's quite egridigous to illegally without that information from the public.
Sunday, February 2nd 2020
There's a redacted plan to contact Tedros Adhanom, director general of the WHO about something in the morning of Sunday, the 2nd.
On Sunday Farrar sent an email asserting that Tedros, and Dr Bernhard Schwartländer, chef de cabinet of the WHO, should decide something today.
Farrar used the word prevaricate where I didn't know what it meant, I looked it up in the Cambridge dictionary. It gets defined as "to avoid telling the truth or saying exactly what you think". My reading is that they want the WHO to buy into the narrative that WHO is of natural origin and not a lab leak and Tedros and Bernhard take their time to decide whether they want to go along with it and prevaricate would mean that the two are evasive and don't give a clear answer as to whether they buy in.
Farrar linked to an article from ZeroHedge about SARS-CoV-2 being potentially engineered suggests that the decision they want Tedros and Bernhard to make relates to the question of whether it's engineered or of natural origin.
On February 2, Fauci wrote with Courtney Billet, who's director, communications and government relations at the NIAID, about the paper from Prashant Pradhan. Courtney suggests that they previously talked about "trying to put the genie back in the bottle" and suggests that the paper makes it harder. A natural interpretation would be that the genie that they are trying to put back in the bottle is the theory that SARS-CoV-2 is engineered.
Meanwhile they decline to speak with a reporter about Pradhan's paper:
Monday, February 3rd 2020
On Monday, Fauci answered a reporter in detail about the connection between animals and SARS-CoV-2. This is remarkable because Fauci usually redirects emails from reporters to other people and did it multiple times that day because it's very busy. This suggests that, compared to telling reporters about the health impacts of SARS-CoV-2, making sure that everybody believes that SARS-CoV-2 came from wild animals is a high priority for Fauci at the time.
According to TheStandard, Tedros at the WHO announces working together with social media companies to fight the spread of "misinformation".
The head of the World Health Organization says it's working with Google to ensure that searches about the new coronavirus from China turn up information from the United Nations health agency first, part of efforts to fight "rumors and misinformation" about the outbreak.

Tedros Adhanom Ghebreyesus told the opening of WHO's executive board meeting today that social media platforms such as Twitter, Facebook, Tencent and TikTok "have also taken steps to limit the spread of misinformation" about the coronavirus and outbreak that first emerged in the Chinese city of Wuhan in late December and has now spread to 23 other countries.
According to CBS, the same day Twitter bans ZeroHedge (the outlet from which Farrar shared a link a day earlier).
Tuesday, February 4rd 2020
From another public records request last year by the nonprofit group U.S. Right to Know we have another email from Andersen. In it he calls the thesis that he proposed only four days ago, that the virus in engineered a crackpot theory and suggests they need to be firm on the question of engineering. W
On Tuesday, it became clear that a WHO working group for "examining the evolution of the nCoV" was to be created. Derek Kan, director of strategy at the biotech startup Genapsys, proposed to Fauci a specific list of names for the working group. Fauci describes the names as "people that we know'' and that for that reason he just passes the list along to Collins and doesn't plan to object. It seems that getting people that Fauci and Collins know on the working group to examine the evolution of SARS-CoV-2 is more important than whether they are qualified.
The same day Farrar writes an email forwarding another email speaking of a first rough draft while saying he will push the WHO more. Unfortunately, we don't have the text of the draft. Edward Holmes who seems to be the author of the draft suggests that it's fundamental science that leaves out other anomalies because mentioning the anomalies would make them look like loons. One explanation of why noting all the anomalies would make them look like loons is because it would make their story of how it wasn't a lab leak a lot less believable.
Wednesday, February 5th 2020
A day later, Farrar writes that he now got the WHO to decide to create a working group. Farrar thinks his group can frame the work of the group which sounds like deciding what it's founding should be. He suggests that the WHO is open for accepting names, so that Farrar and Fauci can determine who sits on it and then together pressure the group so that it does what they want.
Thursday, February 6th 2020
Peter Daszak of the EcoHealth alliance who facilitated the funding of Baric and Shi circulates a draft for a joint statement that's supposed to be published in a way that doesn't make it appearent that he's responsible for organizing the statement.
Please note that this statement will not have EcoHealth Alliance logo on it and will not be identifiable as coming from any one organization or person, the idea is to have this as a community supporting our colleagues.
Tuesday, February 11th 2020
On February 11, 2020 the Coronavirus Study Group (CSG) (Gorbalenya, Alexander E.; Baker, Susan C.; Baric, Ralph; Groot, Raoul J. de; Drosten, Christian; Gulyaeva, Anastasia A.; Haagmans, Bart L.; Lauber, Chris; Leontovich, Andrey M.; Neuman, Benjamin W.; Penzar, Dmitry; Perlman, Stanley; Poon, Leo; Samborskiy, Dmitry; Sidorov, Igor A.; Solá Gurpegui, Isabel; Ziebuhr, John) of the International Committee on Taxonomy of Viruses published Severe acute respiratory syndrome-related coronavirus: The species and its viruses – a statement of the Coronavirus Study Group.
The conclusion of the announcement is that more funding should go into researching Coronaviruses for preventing future pandemics after SARS-CoV-2 with no analysis about whether research funding of groups like Baric's who's part of the CSG might be the cause of the pandemic.
Monday, February 17th 2020
On February 17, 2020 Kristian G. Andersen, Andrew Rambaut, W. Ian Lipkin, Edward C. Holmes and Robert F. Garry published a reprint of The proximal origin of SARS-CoV-2 where they argue for why they believe that the origin of the virus is natural.
Between Robert Garry, Eddit Holmes, Andrew Rambaut and Kristian G. Andersen four of the five people were part of the conference call from on February the 1st which had a total of twelve participants.
Wednesday, February 19th 2020
The letter for which Peter Daszak gathered signatures gets published on Lancet titled The Lancet Statement in support of the scientists, public health professionals, and medical professionals of China combatting COVID-19 in which they say:
We stand together to strongly condemn conspiracy theories suggesting that COVID-19 does not have a natural origin. Scientists from multiple countries have published and analysed genomes of the causative agent, severe acute respiratory syndrome coronavirus 2 (SARS-CoV-2), and they overwhelmingly conclude that this coronavirus originated in wildlife, as have so many other emerging pathogens.
Tuesday, March 17th 2020
On March 17, 2020 Kristian G. Andersen, Andrew Rambaut, W. Ian Lipkin, Edward C. Holmes and Robert F. Garry get their The proximal origin of SARS-CoV-2 paper published in Nature.
Wednesday, July 8th 2020
The US decided not give EcoHealth Alliance, the group that facilitated the grant to Baric and Shi, anymore funding until they answer a few questions:
Provide an aliquot of the actual SARS-CoV-2 virus that WIV used to determine the viral sequence.
Explain the apparent disappearance of Huang Yanling, a scientist / technician who worked in the WIV lab but whose lab web presence has been deleted.
Provide the NIH with WIV's responses to the 2018 U.S. Department of State cables regarding safety concerns.
Disclose and explain out-of-ordinary restrictions on laboratory facilities, as suggested, for example, by diminished cell-phone traffic in October 2019, and the evidence that there may have been roadblocks surrounding the facility from October 14-19, 2019.
Explain why WIV failed to note that the RaTG13 virus, the bat-derived coronavirus in its collection with the greatest similarity to SARS-CoV-2, was actually isolated from an abandoned mine where three men died in 2012 with an illness remarkably similar to COVID-19, and explain why this was not followed up.
Additionally, EcoHealth Alliance must arrange for WIV to submit to an outside inspection team charged to review the lab facilities and lab records, with specific attention to addressing the question of whether WIV staff had SARS-CoV-2 in their possession prior to December 2019. The inspection team should be granted full access to review the processes and safety of procedures of all of the WIV field work (including but not limited to collection of animals and biospecimens in caves, abandoned man-made underground cavities, or outdoor sites). The inspection team could be organized by NIAID, or, if preferred, by the U.S. National Academy of Sciences.
Lastly, EcoHealth Alliance must ensure that all of its subawards are fully reported in the Federal Subaward Reporting System
Sunday, November 17 2020
Shi writes an addendum for her earlier paper that they sequenced RaTG13 another time in 2018 and that this sequence has a 96.2% match with SARS-CoV-2.
Wednesday, December 9th 2020
According to VanityFair, a State Department meeting is held to discuss recently acquired information that three WIV researchers conducting gain-of-function experiments on coronavirus samples had fallen ill. They became sick enough in November 2019 that they sought hospital care with symptoms consistent with both Covid-19 and common seasonal illness.
At the meeting Christopher Park, the director of the State Department's Biological Policy Staff in the Bureau of International Security and Nonproliferation, who had been involved in lifting the moratorium for gain-of-function research, advised official not to say anything that would point to the U.S. government's own role in gain-of-function research.
Further information about events at the Wuhan Institute of Virology
Shi's lab published a paper based on gain of function work on a coronavirus was published in September 29th 2020. The experiments where done in the Wuhan Institute for Virology under biosafety level 2 conditions.
According to Shi at the Wuhan lab, they took their Wildlife-borne Viral Pathogen Database down because the Wuhan lab faced cyberattacks during the pandemic. This is very odd because whole point of database like that existing is to help us defend against pandemics and the database being accessible during the pandemic was a lot more important then at other times.
It's very plausible that the NSA started cyberattacks to understand what happens at the Wuhan lab and that taking data offline was the only way to prevent the NSA from getting access to the data. The database was first taken down on September 12th 2019. If in Shi's view there was already a pandemic on September 12th 2019, and the NSA had picked up enough information to start to attempt to hack into the Wuhan lab at that point in time that's very interesting. This is also an explanation of how the US knows that there was diminished cell-phone traffic in October 2019 at the Wuhan lab.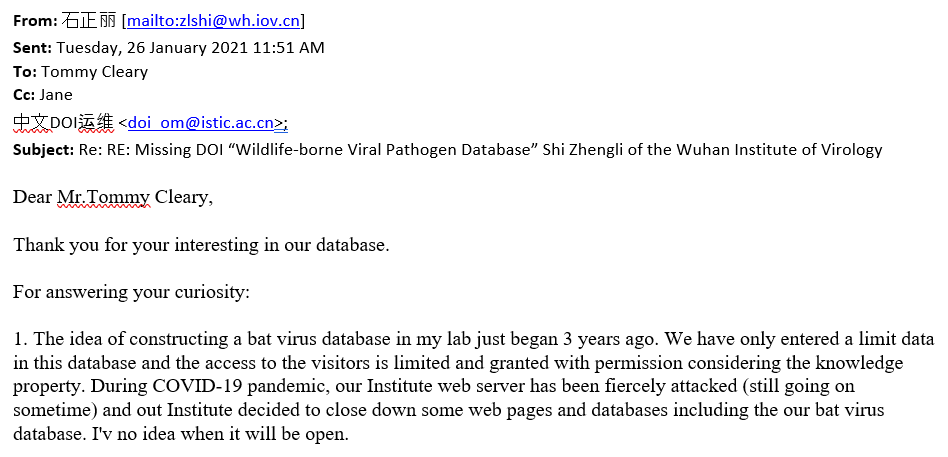 As far as base rates go, this might be the second pandemic caused by a leak from a Chinese lab in the last 50 years. For the one in 1977 we don't know for certain that it was China, it might also have been Russia, live-attuned vaccines might also be responsible instead of a lab leak.
In 2017 and 2018, US diplomats warned about safety problems in the WIV:
When they sat down with the scientists at the WIV, the American diplomats were shocked by what they heard. The Chinese researchers told them they didn't have enough properly trained technicians to safely operate their BSL-4 lab. The Wuhan scientists were asking for more support to get the lab up to top standards.
Biological reasons why SARS-CoV-2 looks like it comes from a lab are well summarized by the paper Should we discount the laboratory origin of COVID-19?
Several characteristics of SARS-CoV-2 taken together are not easily explained by a natural zoonotic origin hypothesis. These include a low rate of evolution in the early phase of transmission; the lack of evidence for recombination events; a high pre-existing binding to human angiotensin-converting enzyme 2 (ACE2); a novel furin cleavage site (FCS) insert; a flat ganglioside-binding domain (GBD) of the spike protein which conflicts with host evasion survival patterns exhibited by other coronaviruses; and high human and mouse peptide mimicry.
Conclusion
Given that an US lab manages to infect 75 scientists with anthrax it's easy to believe that 3 people in the Wuhan Institute of Virology got infected with SARS-CoV-2. The out-of-ordinary restrictions on laboratory facilities at the Wuhan Institute of Virology coupled with the three researchers becoming sick enough to go to the hospital is plausible explained with such a leak. EcoHealth Alliance not answering questions for more details additionally suggests that there aren't good answers.
Given the funding of Baric that plausible was in violation of policy, Fauci had a clear interest in the hypothesis of SARS-CoV-2 having escaped through a lab leak not getting believed. It seems that a group organized by Farrar managed to control the public narrative to label the lab leak for a long time a conspiracy theory.
If you as a reader think that specific emails should be interpreted differently or context is missing please write a comment about alternative explanations or provide additional context from other sources that help to understand better what happened.