There is an article in Foreign Affairs about how femininism and democracy go hand-in-hand. Grassroots movements with lots of women in them are more likely to be peaceful, more likely to overthrow their oppressors and more likely to produce free societies when they do overthrow their oppressors. Femininism is intimately connected to sexual liberation. Thus, sexual liberation is one of the foundational freedoms supporting free societies.
Oppressive societies aren't just oppressive in one dimension. Oppression bleeds. Freedom leaks too. If, on the Solstace, you observe women and men ride bicycles naked for fun you're probably living in a prosperous liberal democracy and not an dystopian authoritarian dictatorship.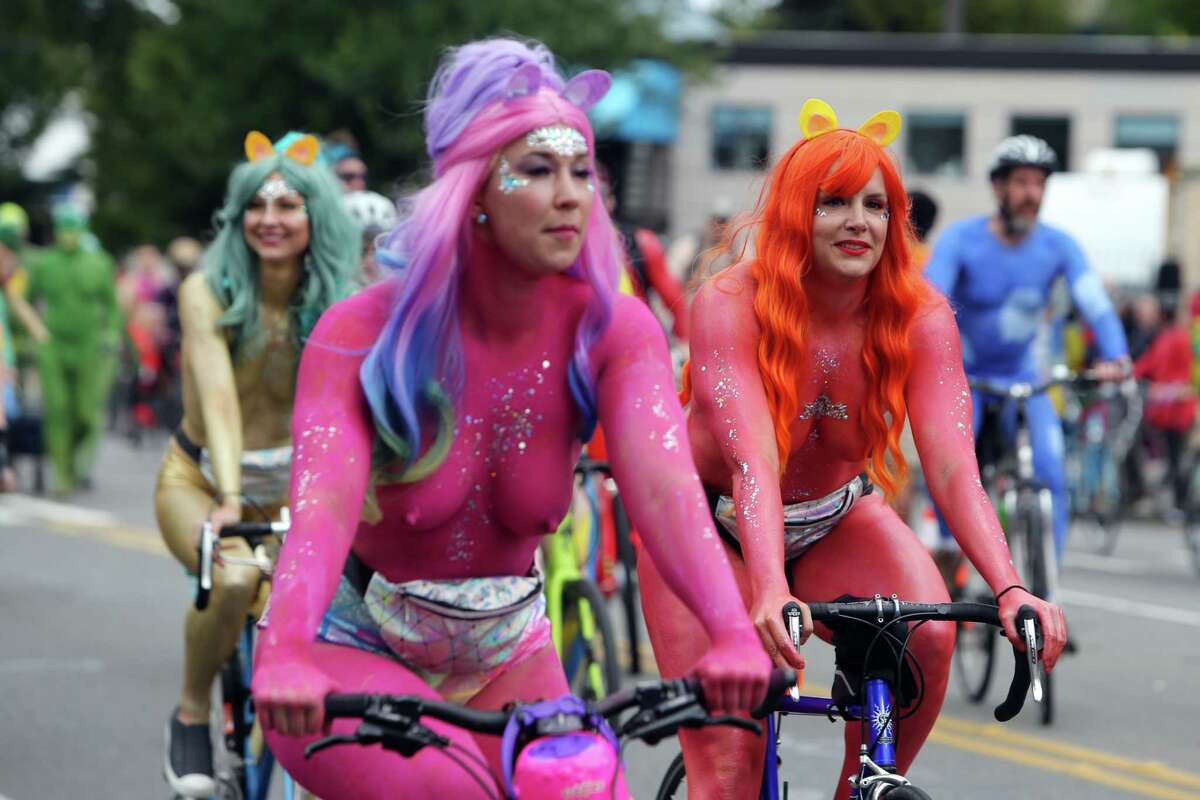 The above photo was taken in Seattle where sexual liberation has skyrocketed over the last 30 years—and not just for LGBTQ+. Talking about sex is becoming normalized. Gigguk, a YouTuber so popular his podcast regularly hits /r/all, published a 12-minute video about his love of hentai. It has 3,213,137 views.
The Lindy Effect suggests that sex will continue to become even less stigmatized for at least another 30 years. It's hard for me to imagine what such a future would look like, but I got a peek at it when I watched the anime Ishuzoku Reviewers.
Ishuzoku Reviewers is a cartoon about interspecies prostitution. It has catgirls, CNC, gender-swapping, bugs, necrophilia, mimics—that sort of thing. I discovered Ishuzoku Reviewers because I was looking for porn. By the time I realized Ishuzoku Reviewers was just boundary-pushing ecchi I had become invested in the characters (especially the hermaphroditic angel). The story had hooked me with its clever dialogue, heartwarming themes and thoughtful worldbuilding.
Ishuzoku Reviewers begins with an argument between Stunk (a human) and Zel (an elf). It is an established trope in the fantasy genre that elves are magical humanoids who remain physically beautiful despite living for hundreds of years. Stunk-the-Human has a thing for female elves. His favorite succu-girl is a 500-year-old elf named Elma.
Zel-the-Elf's favorite succu-girl is a 50-year-old woman named Mitsue.
Ishuzoku Reviewers targets a straight male human audience. The viewer is expected to prefer Elma to Mitsue. But in the world of Ishuzoku Reviewers, humans are oddballs for being attracted to elderly elves whose souls have withered away and whose mana was exhausted long ago. Fiction's greatest power is cultivating empathy and Ishuzoku Reviewers really tugged at my heartstrings. In Chapter 38, the viewer gets to see Mitsue through Zel's eyes. It blew me away.
Different people are attracted to different things. Sometimes the most important ingredient of foreplay is is a fake head made out of cake because that's how demi-human succu-girl praying mantis arousal works.
I love thoughtful worldbuilding so much. The world of Ishuzoku Reviewers is a fun utopia I would actually want to live in. There are no villains in Ishuzoku Reviewers. Instead, the conflict comes from diversity. Different demi-human species have different preferences and different priorities. The dishomogeneity fuels friction, misunderstanding and arbitrage. But never hatred.
This is what coherent extrapolated volition looks like.
Abundant food has already bought us world peace. I wonder what abundant sex would buy us on top of that.
---
Alas, our sinful world was not yet ready for the arete that is Ishuzoku Reviewers. The anime was (understandably) cancelled after just 12 episodes. The complete manga is 50-chapters. If you watch only the anime you'll miss the scene with the bondage-loving spider-girls, the chapter about protogynous merfolk and the scene where the entrepreneurial witch and the loli demon politician discuss what kind of electoral campaign would be necessary to secure public funding for scientific research.
Also, there's an entire subplot about what religion looks like from the perspective of a fallen angel.