Yesterday, Katja Grace asked, "Why do people avoid vaccination?" I suggested that the answer might be anxiety over getting stabbed with a needle. The main idea is that concern over bodily autonomy is common—indeed, it forms the basis of much of our legal system—but people are perhaps too embarrassed to talk about needle anxiety publicly, so they self-deceive themselves about the real reason why they don't want to get their shots.
Since commenting, I've looked into the issue a little bit, and have decided to share some of my findings.
First, although not strong evidence, it is striking to note that there is a strong relationship between age and vaccine uptake. The young, by and large, are more vaccine hesitant than the old, despite being generally more liberal politically.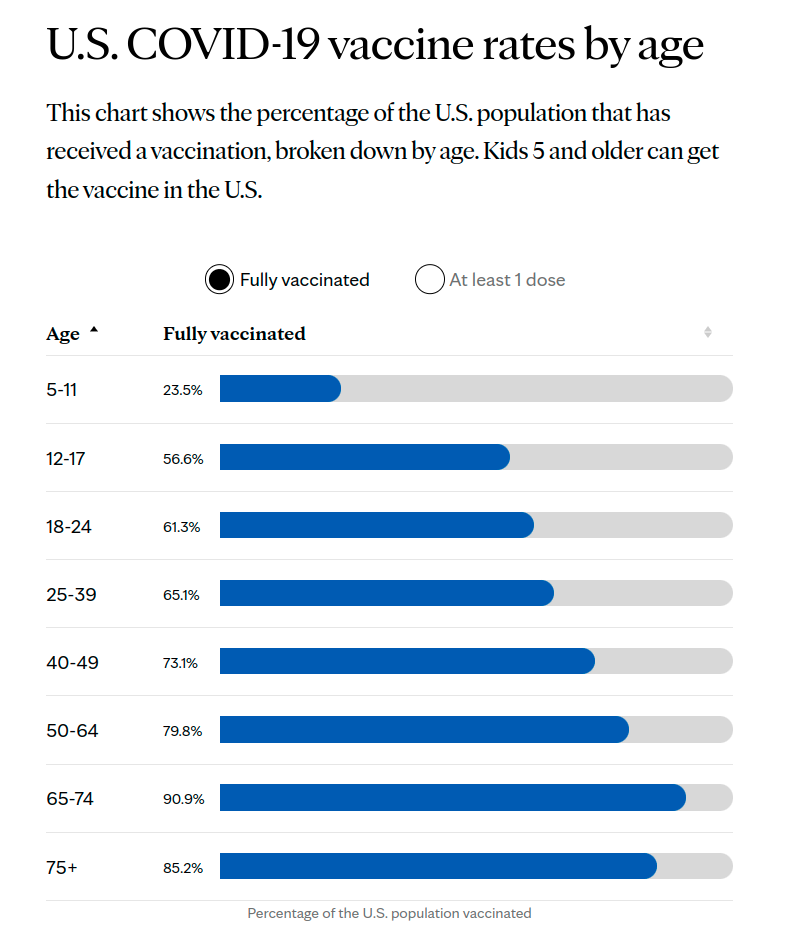 This is probably explained to a large degree by the fact that Covid-19 is far more dangerous to older people, and older people are on average more trusting of their physicians.
But here's another fact that could help explain the data: needle anxiety is concentrated in the young, and declines sharply with age. From one meta-analysis, "The results of meta-regression indicated that, for every decade increase in age (years), there was an 8.7% (95% CI: 6.0%, 11.4%) decrease in the prevalence of needle fear (p<0.001)."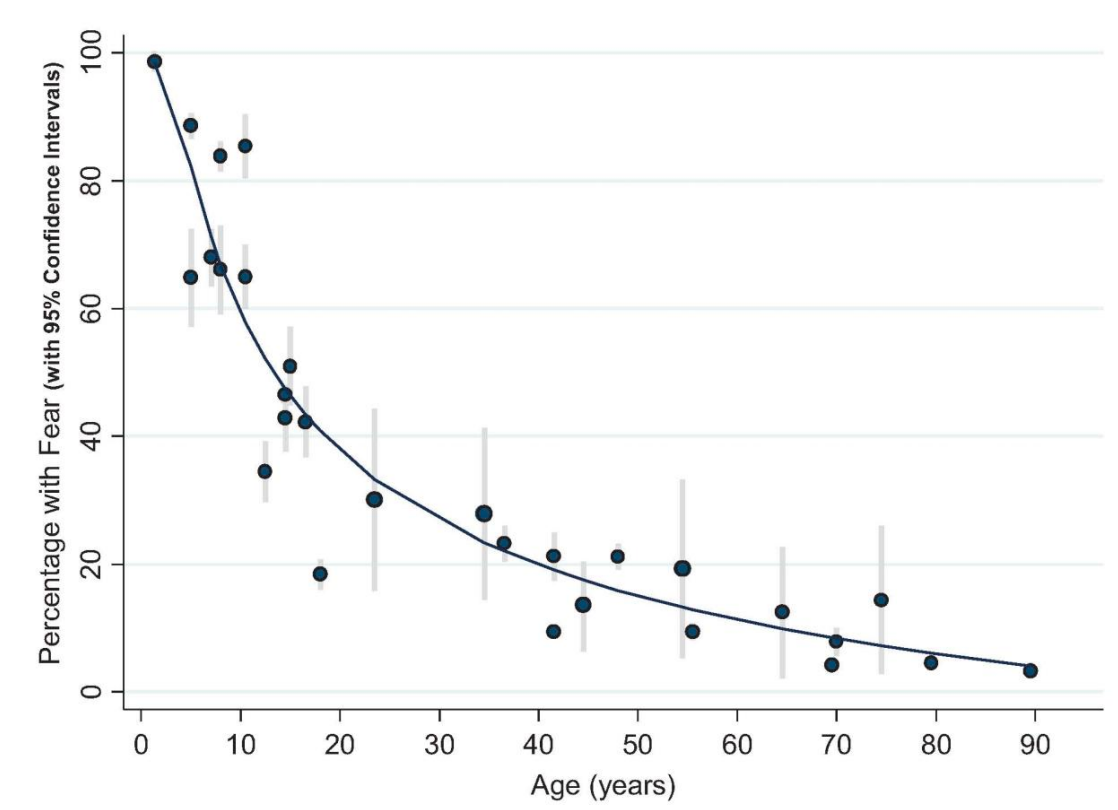 The same pattern can be observed across the genders. Women are both more likely to be needle phobic and more likely to be vaccine hesitant. The same meta-analysis concludes, "For needle fear, the pooled female:male prevalence ratio was 1.4 (95% CI: 1.1, 1.8) with I2 of 89.8% and τ2 of 0.067. For needle phobia, the pooled female:male prevalence ratio was 1.7 (95% CI: 1.3, 2.1) with I2 of 63.4% and τ2 of 0.038."
By comparison, one study that surveyed a "sample of almost six thousand adult Poles, which was nationally representative in terms of key demographic variables" asked about vaccine hesitancy. Here were their main results,
However, these results may not be robust cross-nationally. In the US, the gender gap looks smaller to me, with FiveThirtyEight even reporting that men were less likely to get the vaccine in June 2021. By September, however, those numbers might have reversed with Pew reporting rates of 74% and 71% having received at least a single dose for adult men and women respectively.
One source just authoritatively states,
Women were significantly more likely to express a desire to delay or reject the Covid-19 vaccine than men were, which is consistent with the existing literature on vaccine hesitancy.
Perhaps the most obvious way of resolving this question is to ask people directly about their needle anxiety and Covid-19 vaccine hesitancy. One study did this and reported,
In total, 3927 (26.2%) screened positive for blood-injection-injury phobia. Individuals screening positive (22.0%) were more likely to report COVID-19 vaccine hesitancy compared to individuals screening negative (11.5%), odds ratio = 2.18, 95% confidence interval (CI) 1.97-2.40, p < 0.001.
They continued,
The population attributable fraction (PAF) indicated that if blood-injection-injury phobia were absent then this may prevent 11.5% of all instances of vaccine hesitancy, AF = 0.11; 95% CI 0.09-0.14, p < 0.001.
However, it is unclear to me whether this is a good estimate of the fraction of vaccine hesitancy that is explained by needle anxiety. As I stated earlier, I think many people may be silent about their needle anxiety for reasons of self-deception, as it's admittedly a flimsy reason to avoid taking a medicine that could save other people's lives.
One hypothesis states that people are hesitant because they are concerned that the vaccines were rushed, or that they don't trust the government. While these explanations almost certainly play some role, and it's one of the primary reasons that people point to when they talk about their vaccine hesitancy, I think we should ultimately be skeptical of this hypothesis on its face.
In general, it take an average of 30 years to develop a vaccine, and yet despite this ample time for testing, history is rife with anti-vaccination sentiment. Political propaganda—such as the idea that Biden and the Democrats are untrustworthy—can only play a limited role in explaining the global statistics, which show that vaccine hesitancy is common in many nations. Trump was more responsible for the vaccine than Biden, yet this fact doesn't seem to impact people's perception of the danger by much. And evidently many people who said they'd "wait and see" before taking the vaccine are still, well, waiting and seeing. This provides a prima facie reason to doubt people's stated motivations.
Only about half of people receive their regular flu vaccines each year, with the same trend by age that we see with Covid-19. Unfortunately, I haven't yet been able to find reliable statistics about hesitancy for other voluntary adult vaccines.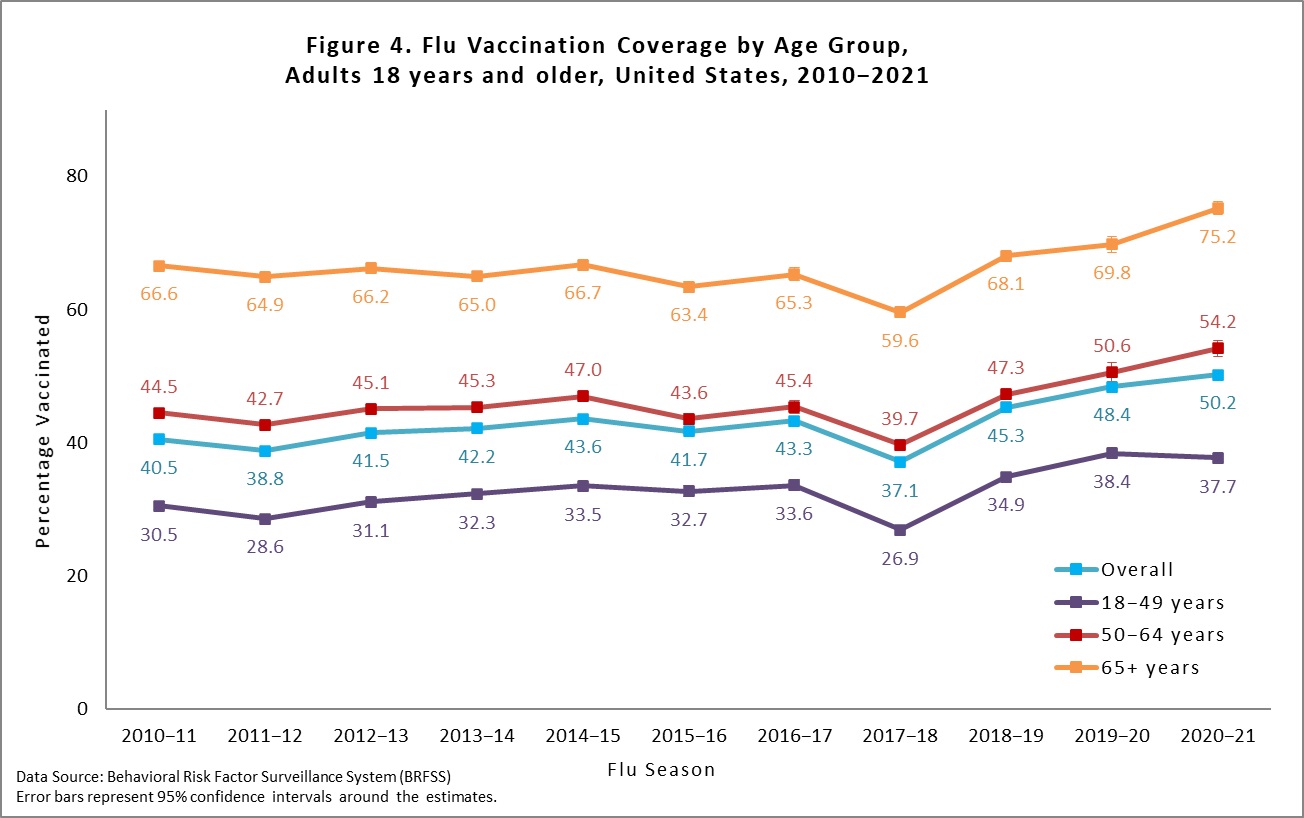 It is true that childhood vaccines reach coverage of over 90% in the United States, but this fact isn't difficult to explain, given that small children don't have a choice in the matter, and it's often a requirement to go to school.
The oral polio vaccine is administered without the use of needles, and therefore could serve as a testbed for this hypothesis. Unfortunately, I didn't find much literature addressing the question directly of how much more people are willing to take an oral vaccine compared to a needle-based one.
That said, given the parsimony of the explanation, the relatively high reported rates of needle anxiety, concentrated in precisely the groups we observe to be vaccine hesitant, the consistency across nations and through history, and the failure of alternative hypotheses to make light of the evidence, I think it makes sense to give the needle anxiety hypothesis a fair degree of credence.