Note: Thanks to Peter McCluskey, whose comment below helped me develop my thoughts further and which is worth reading in addition to this post.
On March 11, 4,611 people had died of COVID-19, and the WHO declared the disease a pandemic. To date, COVID-19 has killed over 1.6 million people. It may cause lasting injury to many more. The COVID-19 vaccine was designed in two days, and finished on January 13th, 2020. We have waited almost a year to test the now two approved vaccines for safety and efficacy. One idea that could have allowed us to complete testing much more quickly, potentially saving an enormous number of lives, was human challenge trials.
On May 6, 2020, the WHO published Key criteria for the ethical acceptability of COVID-19 human challenge studies.
1DaySooner is a nonprofit advocating for human challenge trials, and estimates that "thousands or millions" of lives could be spared by a human challenge trial. In an HCT, informed volunteers are willingly infected with the virus in order to speedily test the efficacy of a vaccine. This gives results faster than waiting for enough conventional study participants to get accidentally infected by COVID-19 to test whether the vaccine works.
Given that millions of lives were potentially at stake, have we talked about it much?
Let's first consider the scientific discussion. In 2020, the number of articles referencing "human challenge trials" or "human challenge studies" more than doubled over the previous year, as measured by Google Scholar hits, to 171 and 512 articles, respectively. There is an all-time total of 493 and 2,200 articles containing these two terms.
This is a pressing moral issue. Yet, for perspective, there were almost 2,200 papers in English this year alone on the major 18th century philosopher Immanuel Kant's "Metaphysics of Morals."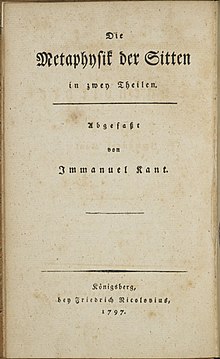 There were also well over 10,000 scholarly articles this year referencing Zika virus, a disease which, though terrible in its own right, is dwarfed by the magnitude of COVID-19. We had plenty of moral philosophers and infectious disease experts on hand. It seems conceivable that much more scholarly discussion of this important topic was possible both prior to and during the pandemic.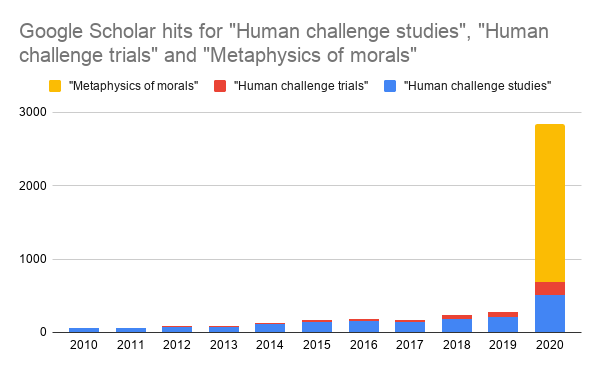 To those who have treated this issue, I offer my sincerest thanks.
What about major media news outlets? The New York Times alone has had 2,299 opinion pieces on COVID-19 as of Dec. 19, 2020, so they haven't exactly been neglecting the pandemic.
Yet the list of links below appears to approximately represent all the combined coverage of human challenge trials in the New York Times, Wall Street Journal, Huffington Post, Vox, and the Los Angeles Times. I found 9 10 articles, though I probably missed a few.
For an idea that could have saved at least several hundred thousands lives, not to mention allowing a speedier economic recovery, we need more.
Though few in number, each of the following articles is in itself a success. No matter their position or focus, they help to address a severe shortage of public debate about human challenge trials:
For writing them, I congratulate their authors: Dylan Matthews and Sigal Samuel (VOX); Jenna Birch (Huffington Post); Spencer Bokatt-Lindell, Denise Grady, Siddhartha Mukherjee, Dan Barouch, Margaret (Peggy) Hamburg, Susan R. Weiss, George Yancopoulos, and Ross Douthat (New York Times); Sumathi Reddy (Wall Street Journal); Karen Kaplan (Los Angeles Times); and all the authors who have occasionally managed to find space for this issue in other outlets.
While there are academic books on the topic, search for "human challenge trials" or "human challenge studies" on Google Books and you'll not find any popular books specifically focusing on human challenge trials. There are, however, plenty of popular books already dealing with the course of the pandemic so far. Perhaps they touch on this issue, but human challenge trials are well worth at least a few focused books on the subject.
Popular discussion of human challenge trials was barely on the radar during this pandemic. Yet HCTs need our sustained attention - if not to expand their use during this pandemic, then to consider how we'll deal with the next one.
Before the COVID-19 pandemic, the ins and outs of pandemic preparation were far from most people's minds. Prior to March, some might have said it was irresponsible to advocate such an ethical edge case for a disease that hadn't even been declared a pandemic. As the pandemic rolled along, it was perhaps more important to gain public acceptance of the response we did make, rather than to critique it. Now, the vaccines are approved, and it's almost a moot point. In six months, the pandemic will be winding down, and we'll all be ready to move on and think about other things.
Then we'll have a year. Five years. Ten. Twenty. But at some point, we may very well be threatened by another global pandemic.
So when will we have a serious discussion about human challenge trials? Doesn't the public deserve to be brought into a debate about the methods its own government and taxpayer-funded scientists (and ethicists) use to address such a crisis?
Billions of people could be having debates around kitchen tables, on Facebook, and the pages of newspapers about their thoughts and feelings about human challenge trials. They need leadership and activism to guide their attention to this issue. They need thoughtful writers to frame the issues clearly.
The history of deliberately infecting people with a disease, or allowing them to remain infected, contains smallpox blankets, used as a bioweapon as part of the genocide of Indigenous tribes in North America; Benjamin Jesty's inoculation of his family with cowpox to prevent smallpox; the Tuskeegee "Study" in which Black Americans were allowed to succumb to syphilis by white scientists; Nazi medical experimentation on Jews; Barry Marshall's self-experimentation with H. pylori; and sensible modern medical trials. The stories are deep, and range from the horrific to the heroic. The ethical issues are complex, and touch on matters of race, class, politics, and science.
We need a rich, long-term public discussion to make sense of all this. It needs more editorials, blog posts, books, and formal debates; the topic is profoundly neglected. The discussion should be intersectional and it should also strive for something like scientific objectivity. Nobody, layperson or expert, should be too confident that their first intuitions on the subject are correct. Our approach to medical ethics has ancient roots. Rather than allowing it to fossilize, we should encourage it to grow.
For those of us who survive, Coronavirus has cost us a year and counting.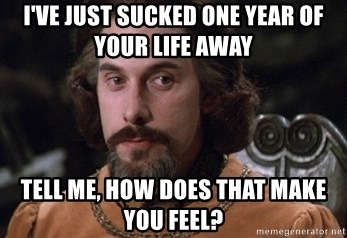 Remember, this is about helping ourselves to live and thrive, in alignment with our values. What approach best contributes to that goal? Let's make sure that the next time a deadly virus manifests a global pattern of exponential growth, we've given serious and sustained thought to the ethics of human challenge trials.