I'll tell you about something that happened in middle school and high school. I had multiple classes each day, in different subjects. Maybe first I had math class. As we all know*, the more homework is assigned in a subject, the better a student retains* the information. The teacher didn't assign an unreasonable* amount of homework though, just an amount proportional to it's importance*, somewhere from half an hour to an hour per day.
Then next I had history class. Once again, the teacher assigned lots of homework so students internalized* the information.
Next, I had English class. The English teacher... well, you see the pattern.
When this was done, I had 3 to 5 hours of homework per day. As you might have guessed, each asterisk marks a piece of bullshit.
I went to the teachers and tried to explain the problem, but each one considered their subject to be the most important. The Math teachers said that math is what the universe runs on, it's needed for clear reasoning in all other subjects. The History teacher said that mistakes in history cause problems that cause massive harm to everyone, and is needed for clear perspective in all other subjects. The English teacher... the point is, each said that although other teachers maybe should reduce their homework, "I" don't need to.
A simple google search shows that I'm not alone. If you google "high school homework amount" or "middle school homework amount" you get a lot of articles that say "students get an average of 3.5 hours of homework per day", anecdotes that a lot of kids are burning out, a guideline of how much homework kids should have of 10 minutes per day per grade level (with dubious research and psychology behind it), and... claims that high school students have much less homework than that. What's with those? I looked into those claims and some are based mostly on a 2007 study (a bit more than an hour) or earlier (less than an hour in the 1990s and before), and the rest are turning more recent studies claiming that teachers assign 3.5 hours of homework a week and not multiplying by number of teachers, or some other bad statistics. Homework really was much less bad a few decades ago. But it's been climbing, and articles that cite more recent sources properly pretty much all agree on this.
Homework wouldn't be so bad if it was an optional review study tool, but it was a huge part of the grade. If I only did half the homework, for a "reasonable" 2 hours of busywork per day, than even if I got 100% on the problems I did do I would have 50% of the grade, an F. I assure you that the stress in this article is completely realistic.
What happened in the 00's that caused homework to explode? I don't have hard proof of my theory, but...
This is where this article starts to get scary.
---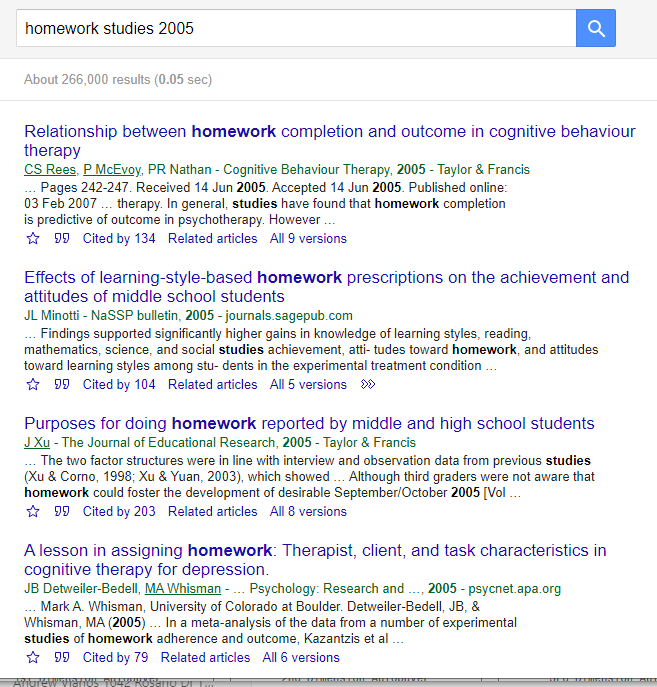 Before 2000, homework was strongly limited by teachers' time. If a teacher assigned homework and tests, they would then need to grade the homework and tests. Assigning more work than minimum would hurt themselves. However, during the 00's, technology and standardization became normal. Grading a 5-paragraph standard format formulaic essay is much easier and faster than grading other essays. Webassign, started in 1998, had been spreading from school to school (as well as other online homework systems). Things like these disconnect teacher's time and homework time; now teachers can assign as much homework as they think proper. And why wouldn't they assign lots of homework now? Studies reliably say that students who do their homework have much better life outcomes, and patients who diligently complete homework assigned by their therapists get better than patients who don't (Can you see the problem here?). Therefore, lots and lots of homework.
Does this theory pay rent? Would suddenly making grading even more automated lead to a massive homework spike? I planned this article before checking what happened during quarantine, when school suddenly went online for everyone. If my theory is correct, there would be a sudden increase in homework for quite a lot of people (not everyone, but many). Did that happen?
YES (1)(2)(3)
The really scary thing is that there is nothing now reliably limiting homework load, but still incentive to keep increasing it. As long as teachers continue to think homework helps students, they won't listen to students complaining. Some parents would complain too, but they aren't the decision makers, and "For every mom complaining about too much homework, there's another frustrated parent saying her child is getting too little". I was lucky and had parents who saw the problem, but they couldn't do much besides give sympathy.
College, which has TAs grade things instead of Professors, got this problem a long time ago. As they say, "Study, social, sleep, pick two" (there are many variations).
What about at the limit? Teachers doing almost no grading at all, and only checking completion? I have some bad news. Most teachers limit themselves somewhat, but others appear unbounded. My AP calculus teacher, as the test approached, told students that they must complete two tests from previous years per night including weekends, then grade themselves, and turn it in. Each AP test was one that students had 1.5 hours for originally, and "knowing the material" was not accepted as an excuse. Fortunately, students going to the dean of students were able to get this cancelled, but if the dean had also been unsympathetic we would have had no recourse. I know someone else, "R", who had a college class where a professor just assigned every assignment available in some software the school had instead of picking the ones that he thought would best fit lessons and teaching style, which was the way the software was meant to be used.
As a final note, I went to an expensive private school, not a public school. The problem wasn't caused by standardized testing.