You can see the full voting results here: 1000+ karma voters (All voters)
---
The 2019 Review votes are in!
This year, 88 voters participated, evaluating 116 posts. (Of those voters, 61 had 1000+ karma, and will be weighted more highly in the moderation team's decision of what to include in the Best of 2019 Books)
The LessWrong Moderation team will be reflecting on these results and using them as a major input into "what to include in the 2019 books."
Top Results
The top 15 results from the 1000+ karma users are:
Top Reviewers
Meanwhile, we also had a lot of great reviews. One of the most valuable things I found about the review process was that it looks at lots of great posts at once, which led me to find connections between them I had previously missed. We'll be doing a more in-depth review of the best reviews later on, but for now, I wanted to shoutout to the people who did a bunch of great review work.
The top reviewers (aggregating the total karma of their review-comments) were: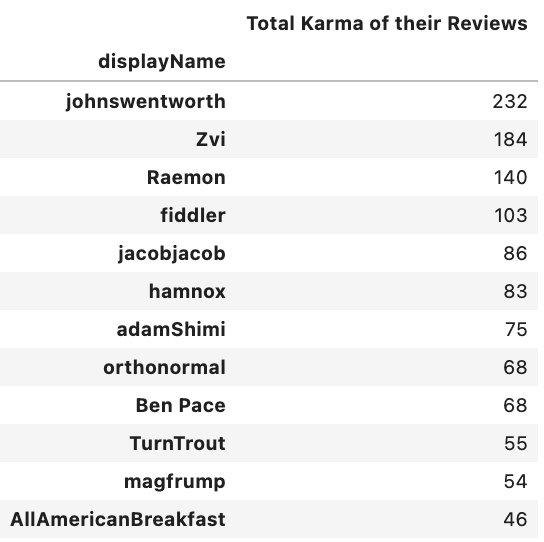 Some things I particularly appreciated were:
johnswentworth, Zvi and others providing fairly comprehensive reviews of many different posts, taking stock of how some posts fit together.
Jacobjacob and magfrump who stuck out in my mind for doing particularly "epistemic spot check" type reviews, which are often more effortful.
Complete Results (1000+ Karma)
You can see the full voting results here: 1000+ karma voters (All voters)
To help users see the spread of the vote data, we've included swarmplot visualizations.
Only votes with weights between -10 and 16 are plotted. Outliers are in the image captions.
Gridlines are spaced 2 points apart.
Concrete illustration: The plot immediately below has 18 votes ranging in strength from -3 to 12.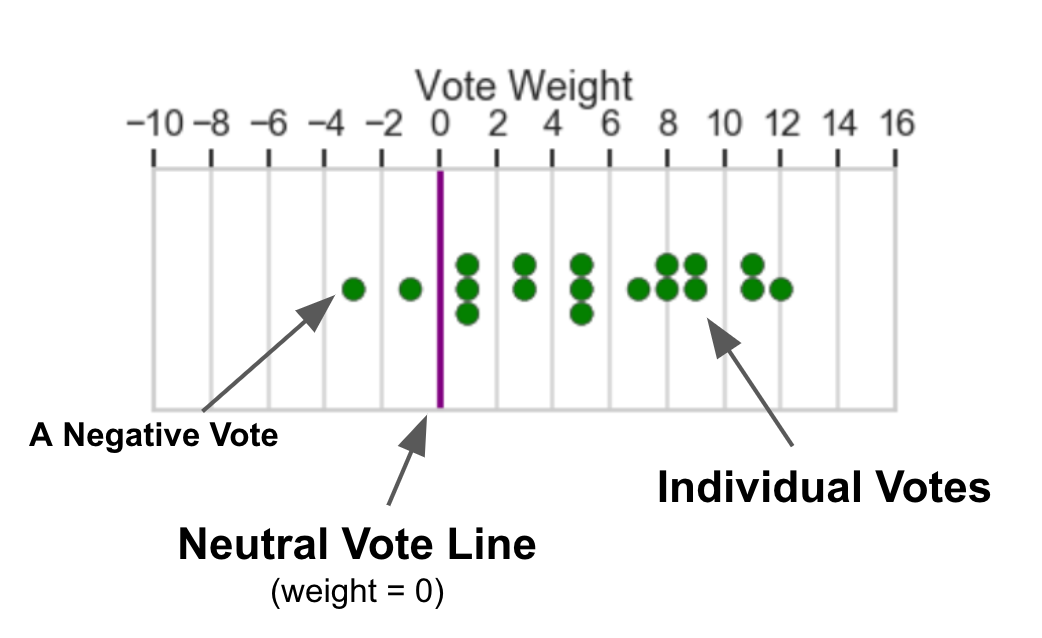 What does this mean, and what happens now?
(This section written by habryka, previous section written by Ray)
The goals of this review and vote were as follows:
Create common knowledge about how the LessWrong community feels about various posts and the progress we've made.
Improve our longterm incentives, feedback, and rewards for authors.
Help create a highly curated "Best of 2019" Sequence and Book.
Over the next few months we will take the results of this vote and make it into another curated collection of essays, just as we did with last years results, which turned into the "A Map that Reflects the Territory" essay collection.
Voting, review and nomination participation was substantially greater this year than last year (something between a 30% and 80% increase, depending on which metrics you look at), which makes me hopeful about this tradition living on as a core piece of infrastructure for LessWrong. I was worried that participation would fall off after the initial excitement of last year, but I am no longer as worried about that.
Both this year and last year we have also seen little correlation with the vote results and the karma of the posts, which is an important sanity check I have for whether going through all the effort of this review is worth it. If the ranking was basically just the same as the karma scores of the post, then we wouldn't be getting much information out of the review. But as it stands, I trust the results of this review much more than I would trust someone just pressing the "sort by karma" button on the all-posts page, and I think as the site and community continues to grow, the importance of the robustness of the review will only grow.
Thank you all for participating in this year's review. I am pleased with results, and brimming with ideas for the new set of books that I am looking forward to implementing, and I think the above is already a valuable resource if someone wants to decide how to best catch up with all the great writing here on the site.